We currently have up to 4 farmhand positions open to work-study students through the Oberlin College Bonner Center.
5-15 hours per week available M-Sat between 8 am-4 pm, with flexibility.
Tasks include: assisting with the growing of crops by learning and applying the core skills of basic farming and gardening, including: seed starting, Integrated Pest Management, basic fertilization, weed management, harvest and market prep, grounds management, and seed saving. Qualifications include physical fitness and attention to detail.
Internships
Interested in doing an internship with City Fresh or the George Jones Farm? We'd love to have you! We can host summer, winter, or year-long internships. If you have an idea for a project you're passionate about, get in touch with us.
Continue reading below for examples of some recent internships we have hosted.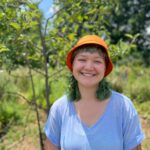 Amanda came to us as a summer fellow courtesy of the OC EnviroAlums committee.
In her fellowship, she focused on revitalizing the learning garden at the George Jones Memorial Farm. Amanda identified and transplanted beneficial wildflowers already on the farm into the garden and planted new blueberries and herbs. With this project, she aimed to make the garden a space to grow perennial food and medicinal plants, and where people could become familiar with native plants.