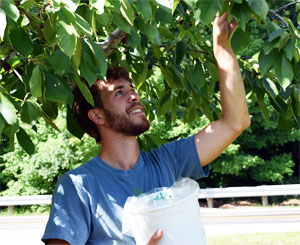 By Aidan McNulty
Hello all!
This was my first week working at the George Jones Memorial Farm, and everything has been really great so far. Over the course of this summer I will try to provide weekly updates on the work being done on the farm, the future plans for the summer, and any other relevant happenings at the farm.
We worked on a variety of different tasks, with weeding being the main focus of the week. The onions in the Northern garden needed it the most, and throughout the week nearly everyone helped weed the patch. We only finished weeding roughly half of the onions, so we will have to continue weeding the garden next week as well. The sweet potatoes next to the onions were being eaten by deer, so on Monday we covered them with a white cloth cover which protects them from deer and allows the sunlight to filter through.
We weeded, removed the suckers, and (partially) trellised the tomatoes in the raised beds. The suckers, which are new stems on tomatoes that grow between the main stem and the leaves, needed to be removed so that the tomato plants would continue to grow upright and use their energy to produce fruit, and they were already quite large. The tomatoes and beets in the greenhouses were also weeded, and the beets were thinned so that they are two finger lengths apart.